Thinking of going out to recreate on Cleveland's Lake Erie Harbor or the lower six miles of the Cuyahoga River? There are a few things you can do BEFORE you hit the river/lake to ensure you have a fun and safe time.
Get yourself an app that tracks large boat traffic on the river. We use Marine Traffic (available for $3.95). FindShip is a less robust app that's available for free. Before you venture out on the river, check the app to ensure you won't be sharing a narrow body of water with a vessel that's as long as the Terminal Tower is tall. And consider purchasing a floating waterproof pouch for your phone so you can monitor the app & take pictures while you're on the water!

Familiarize yourself with the Paddle Safe Brochure that Cuyahoga River Restoration put together with members of the Cuyahoga River Safety Task Force.

Check out the below videos to better understand the unique challenges maritime faces when sharing a narrow body of water with recreational boaters (both human and motor powered). The Cleveland Harbor and last 6 miles of the Cuyahoga River are Federal Navigation Channels so there are specific rules of the road and safety requirements. The 6 minute Cleveland Water Safety Video, another joint effort by the Cuyahoga River Safety Task Force, is a must watch.

Download and read ODNR's Ohio Boaters Guide.

When you're out on the water, your ears are as important as your eyes. If you hear the horn of a bridge (NS1, Center Street (Red), Carter Road (Blue), Columbus Road (Green) signalling the start of a lift, know that lift is happening because something BIG is coming through! If you hear a horn blast from a freighter, take immediate action, i.e. get out of the way as fast as possible. Five short horn blasts mean danger!

If you're near a freighter in a turn, you are in the wrong place and you ARE in danger. Prop wash from bow & stern thrusters can capsize a boat or push you into a hazardous location. If you find yourself in a turn with a freighter, you MUST listen to the crew on the ship for direction on what you need to do. Well meaning bystanders on shore may also shout directions - listen to the ship crew. See video below.

Check out See Your Words' graphic recording of the recent Cuyahoga Safe Paddle Forum. We love Jo's work and she did a great job summarizing all the pieces of the puzzle that need to click into place for everyone to have a fun and safe summer on the Cuyahoga River.

Once you've done all of the above, get out on the water! Here's a list of folks who can help you do that! http://sharetheriver.com/recreation
Cleveland Water Safety Video (Cuyahoga River Safety Task Force & The Foundry)
Passing Zones on the Cuyahoga River
There isn't an organization more versed in recreational safety practices on the Cuyahoga River than Cleveland Rowing Foundation (CRF). Rowers first plied the river in 1855 with the Ivanhoe Boat Club. But once the Ohio & Erie Canalway was opened in 1835 making Cleveland the pivot point between New York City and New Orleans, the surge in industrial traffic pushed rowers off the river. In 1985, five rowers from traditional northeast rowing cities created the Cuyahoga Rowing Association, which begat the Cleveland Rowing Foundation.
CRF members include adult, collegiate, and scholastic rowing organizations and the safety guidelines they have established are exhaustive. While their Safety Manual (SaM) is geared towards rowers, there is a LOT of detail applicable to other recreational users of the river. Of particular value is the "passing zones" map. Should you see a freighter coming, sheltering in one of those zones offers you a significant measure of protection (and appreciation by freighter captains).
Mooring Along the Flats East Bank
The Coast Guard collaborated with local stakeholders in 1996 to create a safety zone along the Flats east bank to protect recreational power boaters when large freighters maneuver in the area. This zone extends 10 feet from the riverbank and begins just south of the Norfolk & Southern Railroad Bridge #1, extending 600 feet south before ending at Alley Cat Oyster Bar's outdoor patio.
Bottom line - if you're moored in this safety zone, you're taking your chances. And if you're in this zone when a freighter comes through, you're single-handedly creating a dangerous maritime situation. (5.26.19 Update: USCG Great Lakes has granted a conditional waiver that allows recreational boats to moor in the safety zone along the Flats East Bank. Vessels must relocate when a freighter transits this area).
Here are some informational links:
This safety zone was direct result of the Cuyahoga River Safety Task Force's goal to foster shared use of the Cuyahoga River while maintaining a safe environment to transport over 10 million tons of raw materials to manufacturing and construction stakeholders located along the river.
The American Canoe Association has some great safety tips. Thanks for the tip Play Harder Adventures!
Cleveland's Theater of the Waterfront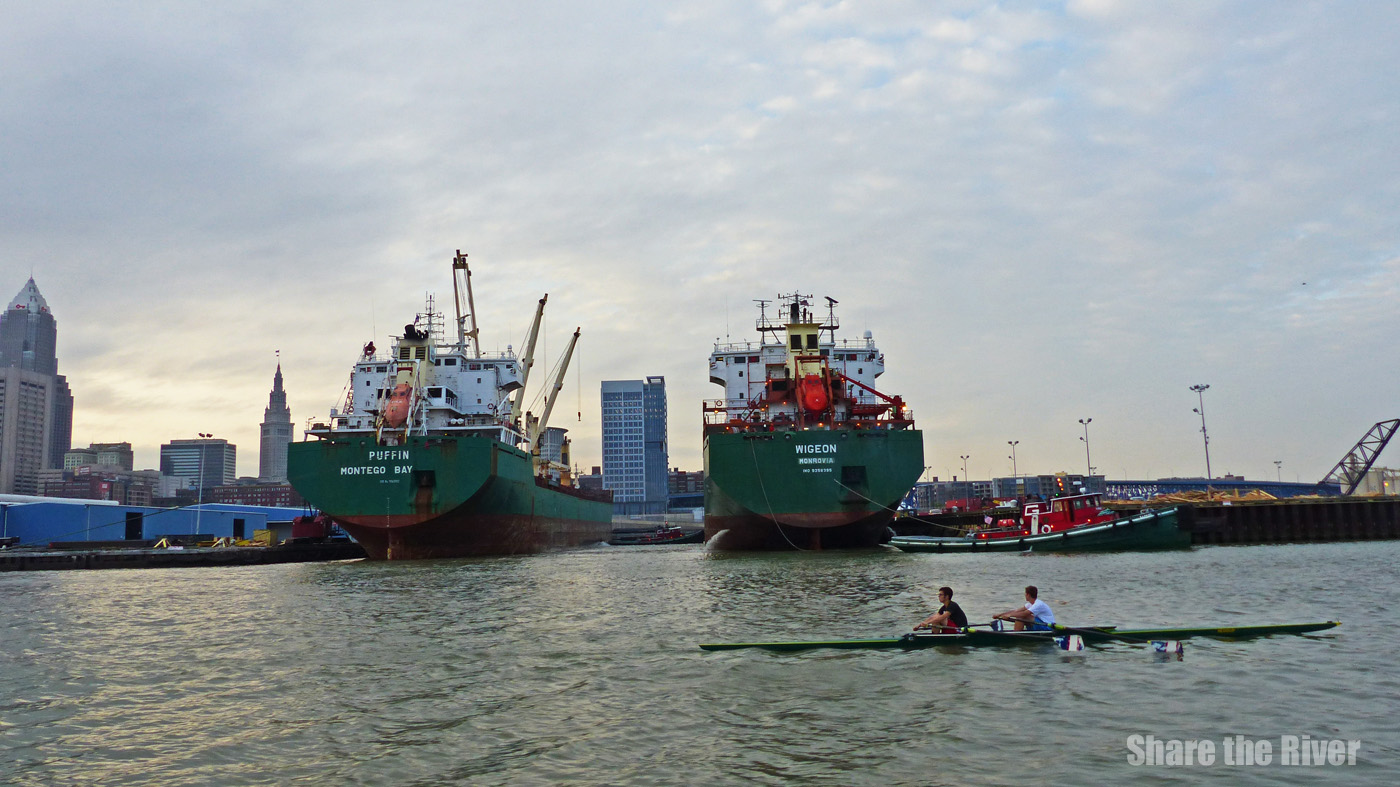 If you're a business, organization, foundation or individual who would like to become more involved with our collective efforts to ensure a safe paddle season on the Cuyahoga River and other Lake Erie tributaries, contact us at sharetheriver3@gmail.com.